Germaine Bolano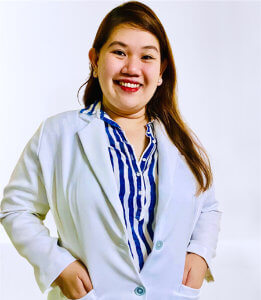 Hello, Mabuhay! It's nice to meet you! My name is Ma. Germaine Bolano, you can call me "Maine." I am a Registered Nutritionist-Dietitian and Certified Healthcare Virtual Assistant in the Philippines.
I studied Bachelor of Science in Nutrition and Dietetics at the University of Santo Tomas for four years. I took Nutrition and Dietetics because I desired to promote better health by spreading awareness about diet, nutrition, good eating habits, and managing specific diseases. After graduation, I worked at Makati Medical Center hospital in the foodservice field for several years and afterward as a therapeutic dietitian at the dietary department. I was exposed to various people handling concerns that honed me to work in an organized and efficient manner.
What I love doing in my free time is watching a good movie, taking good care of my three dogs, dancing, serving God, exploring the beauty of nature, and spending quality time with my family and friends.
I am very excited to join Dr. Karen in providing high-quality healthcare and promoting holistic care and wellness to patients. I look forward to meeting and providing you with a remarkable healthcare experience. Together we are working towards a healthier community.